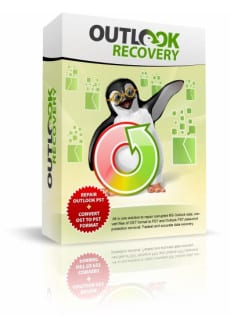 Outlook Recovery Wizard ( Recovery Wizard for Outlook ) provides you with the ability to easily and quickly convert your .ost files into .pst format with a simple-to-use interface and a 1-2-3 click process. OST to PST file conversion is not the principal function of the Outlook Recovery Wizard – it is the most powerful .pst data recovery tool on the market. No specialist experience or knowledge is required to recover all of your Outlook email data including: restoring lost emails, tasks, calendar, notes, contact lists and personal entries. With Outlook Recovery Wizard you never have to rely on expensive data recovery services or tools – a simple, fast download combined with a step-by-step recovery process makes Outlook Recovery Wizard the "Go To" .pst recovery tool for every Outlook user.
Simple, Fast and Effective .PST Recovery
Key benefits of Outlook Recovery Wizard
With a simple, fast download of Outlook Recovery Wizard, users gain access to a powerful suite of .pst recovery and conversion tools, including:
Outlook Recovery Wizard –

Recovery Wizard for Outlook

converts .ost files to .pst files with ease and without the need for any specialist knowledge or computer experience, which means that even the most basic computer user is able to use email files without worrying about losing or corrupting the correspondence data. In addition, Outlook Recovery Wizard also protects Outlook users against the risk of corrupted email and data files – with a simple 1-2-3 click of a mouse, damaged .pst files can be recovered quickly and with ease, which means that Outlook users need never lose valuable information and time again!
Convert .OST to .PST – .ost files used in

Microsoft Exchange

5.0, 5.5. 2000 & 2003 will need to be converted to the .pst format used in

Microsoft Outlook 97-2007

. Outlook Recovery Wizard includes a fast conversion tool to allow you to quickly modify your .ost files for use in Outlook without the fuss.
Speed –

Outlook Recovery Wizard

is a simple, fast and safe download which is quickly deployed and used. You do not need to waste valuable time and money on expensive data recovery services, or take your computer into the shop. Simply click on the download, run Recovery Wizard for Outlook and follow the simple instructions – from damaged email files to a working, fully restored Outlook in minutes!
Multi-Pass PST Scanning –

Outlook Recovery Wizard

is powered by a proprietal, mathematically driven algorithm which is used to scan .pst and .ost files. Deep scanning of files is conducted which is then used to analyze and recreate the user's Outlook data. It is the efficiency and effectiveness of this multiple scanning technique, backed by a powerful algorithm and error database which allows our customers to recover email files complete with highly detailed information such as email headers, signature lines, calendars and personalized Outlook information.
Simplicity –

Outlook Recovery Wizard

is so easy to use even a child can use it! You do not need ANY prior computer experience or specialist expertise to perform a thorough and complete Outlook data recovery. Outlook Recovery Wizardis a powerful and effective recovery tool which takes the user through a 3-step process.

First:

Outlook Recovery Wizardanalyzes your damaged email files.

Second:

Outlook Recovery Wizardthen compares and matches the corrupt data with located indexes using our proprietal error database and algorithm engine.

Third:

Results are returned to the user who decides whether they wish to proceed with recovery – Outlook Recovery Wizard recovers files and reports the results to the user. This process takes a few minutes depending on the speed of your computer and the size of the Outlook data files being analyzed and recovered.
Maintains File Integrity –

Outlook Recovery Wizard

maintains the old file and builds a brand new file from recovered data. You are not changing the corrupted files in any way, nor are the damaged files being "repaired" – building a brand new file means you maintain data integrity, including for compliance purposes (e.g. Sarbanes Oxley) and reduce the possibility of a recurrence of file corruption.
File Size –

Outlook Recovery Wizard

will handle very large files – more then massive 4GB!
Password Stripping – forgotten passwords and protected access email files are no object with Outlook Recovery Wizard. Passwords and access protection is stripped as part of the file rebuild, which means that you can easily recover all .PST data and also preview the contents of the file prior to recovery.

Simple to Use – Easy as 1-2-3!
.pst files and databases tend to grow with time – just think about how much you have come to rely on your email! As you receive and send emails, together with attached files and use the enhanced functionality of Outlook, including calendars, task reminders and personal data entries, then you can understand how big a collection of files Outlook comes to represent.
In addition, the information which is stored within these email archives assumes ever greater importance. Frequently, the email database is the place of first and last resort when it comes to finding information, lost files and important communication exchanges with friends, family and business contacts.
When you lose your Outlook email files, you can easily feel like the world has come crashing down!
But Outlook Recovery Wizard makes this all a thing of the past – simple, easy and very powerful.
With Outlook Recovery Wizard, you never have to worry about losing your data and emails because you had a hardware crash, or your file system has started doing something strange or because you have experienced a power failure.
Outlook Recovery Wizard is also a very fast recovery tool – you will not spend endless hours trying to figure out how to perform a file recovery. Outlook Recovery Wizard is fast and includes an intuitive user interface which will guide you through a 3-step process. It is as simple as clicking 1-2-3!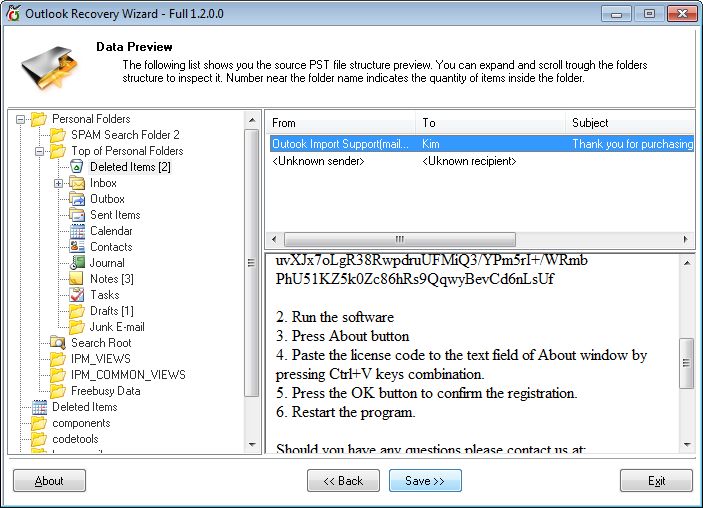 By the time you have read this you could have recovered your Outlook emails!

Users about Outlook Recovery Wizard:
Thank you SO MUCH for the pst recovery tool!! We lost a few things but it doesn't matter, you were able to get back most of our file's and that is more then I expected. We are extremely happy with the results and you made our day. I appreciate all the work that your support team did for us to bring back our file.
This level of service to your customers and support for your product is very rare these days and is greatly appreciated and I will make sure I recommend your software to other users within our industry that will require such a service. Thanks again for all the work you did for us.
I paid for another tool in addition to yours that was twice as expensive…the more expensive program did not recover even half of my data, but your tool not so expensive and it recovered much more!